Many 401(k) advisors talk about "Three F's" – Fees, Fiduciary, and Funds – but many of them miss the mark. Over the years we have realized that most 401(k) advisors do a nice job at investment guidance. Some advisors conduct employee education meetings and are effective. Few advisors focus on plan operations which is how we serve as a fiduciary and take work off your desk. Read below to see how. 
Transparent Fee Structure
Co-fiduciary 
Investment Management
Consistent Communication
Employee Education
We have partnered with the nation's leading 401(k) providers to leverage technology to increase the effectiveness of the plan as well as increased financial literacy to plan sponsors and participants. 
3(21) or 3(38) Co-fiduciary Monitoring System
Fiduciary Vault – Stores meeting minutes and plan documents
Pension Resource Institute – Provides fiduciary education and resources to plan sponsors
Fee Comparison and Analysis – Enables a transparent fee structure
Fund Lineup Comparison – Allows performance comparison of fund lineup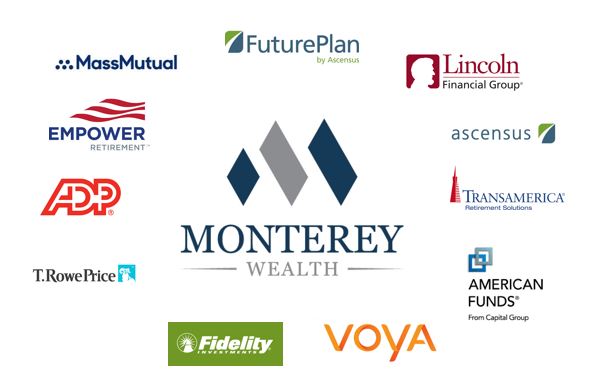 Monterey Wealth Difference
We focus very heavily on the operations of your plan. One way we do so is by keeping your plan clean. What does that mean? Keeping your plan clean means that when ex-employees leave their balance in your plan, there are costs associated with that; administrative costs, time, and effort. We focus our time on educating your participants (active & terminated) on their options upon leaving your firm. This has many benefits.
Delay a 401(k) audit
Get you out of an unnecessary audit
Reclaim unvested dollars tied-up in terminated participant balances to help pay plan expenses
Reduced plan sponsor fiduciary & cyber-security risk
Takes work off your desk
Please call 404-201-2284 or click on the button below to schedule time to discuss your plan.