What makes Monterey Wealth different from other 401(k) plan specialists?
401(k) Plans Present Unique Exposure to Plan Sponsors & Administrators
You have accepted fiduciary responsibility for all plan participants (includes current employees and former employees with plan balances)
According to ERISA, being a fiduciary means you must act in the best interest of plan participants
ERISA was passed by Congress in 1974 and governs employee benefit plans including retirement plans
Your fiduciary liability includes, but is not limited to, the following:
Excessive fees
Lack of investment choices
Poor investment performance
Failure to execute plan operations
Cyber-security risk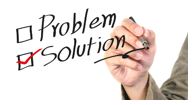 How can you reduce your risk?
Hire an advisor who can be a co-fiduciary and shares in the risks with you
Eliminate exposure to unnecessary risks such as terminated employees with plan balances
Proactively work to encourage terminated employees to get off the plan
How can Monterey Wealth help you?
Delay or avoid an audit by educating terminated employees with balances to roll off the plan
Reclaim unvested employer contributions in terminated employee accounts
Improve plan investment performance
Reduce plan expenses
Ensure plan operations are working efficiently
Improve employee outcomes
Reduce fiduciary and cyber-security risk